There are many things a big sister is good for, but only a few things make her truly valuable: telling you when your outfit makes you look like a 2000s ratchet Lizzie McGuire and where to go in Paris. The latter is what makes my sister the greatest (check out Real/Refined to check on her adventurous lifestyle, too!)
So, with a sister like mine who loves Paris as much as I love John Hughes movies, you know that she's going to give you a great recommendation.
She told us to make sure we hit the "Speakeasy Bar Scene". For those of you who don't know (aka me), a speakeasy is a bar based off the bars in the 1930s during the prohibition era which were, appropriately called, speakeasy bars back in the day, too.
With a neon "TACOS" sign in the front window, Christine and I stepped into a tiny restaurant consisting of one table and seats at the bar. Filled with all French natives, we were totally over our head. We knew no French except for the basic "Merci", "Bonjour!", and the pivotal "Parlez vous anglais?" (do you speak english), but we were starving and in need of a taco.
Desperate times called for desperate measures. It was definitely going to be a sink or swim situation, and I felt an anchor being tied to my ankle.
Christine and I had never been in a situation where we knew little to no of the language. Since we are Spanish majors and minors, respectively, it's always been a little easier in Spain. We understand what they are saying and can appropriately answer them back in Spanish at least 83% of the time.
Luckily, a saving grace fell upon us — Carlos, the head chef. Not only did he speak English, but he spoke French and Spanish, as well. With his help, we ordered tacos, chips and guac, and a Margherita, and it was delicious.
As odd as it seems, the best taco we have had in Europe, thus far and most likely ever, was in Paris, France — the land of the most exquisite culinary feats in the world.
And, here, is the lesson of the day folks: be fun, be sweet, be polite, and make some friends out of strangers.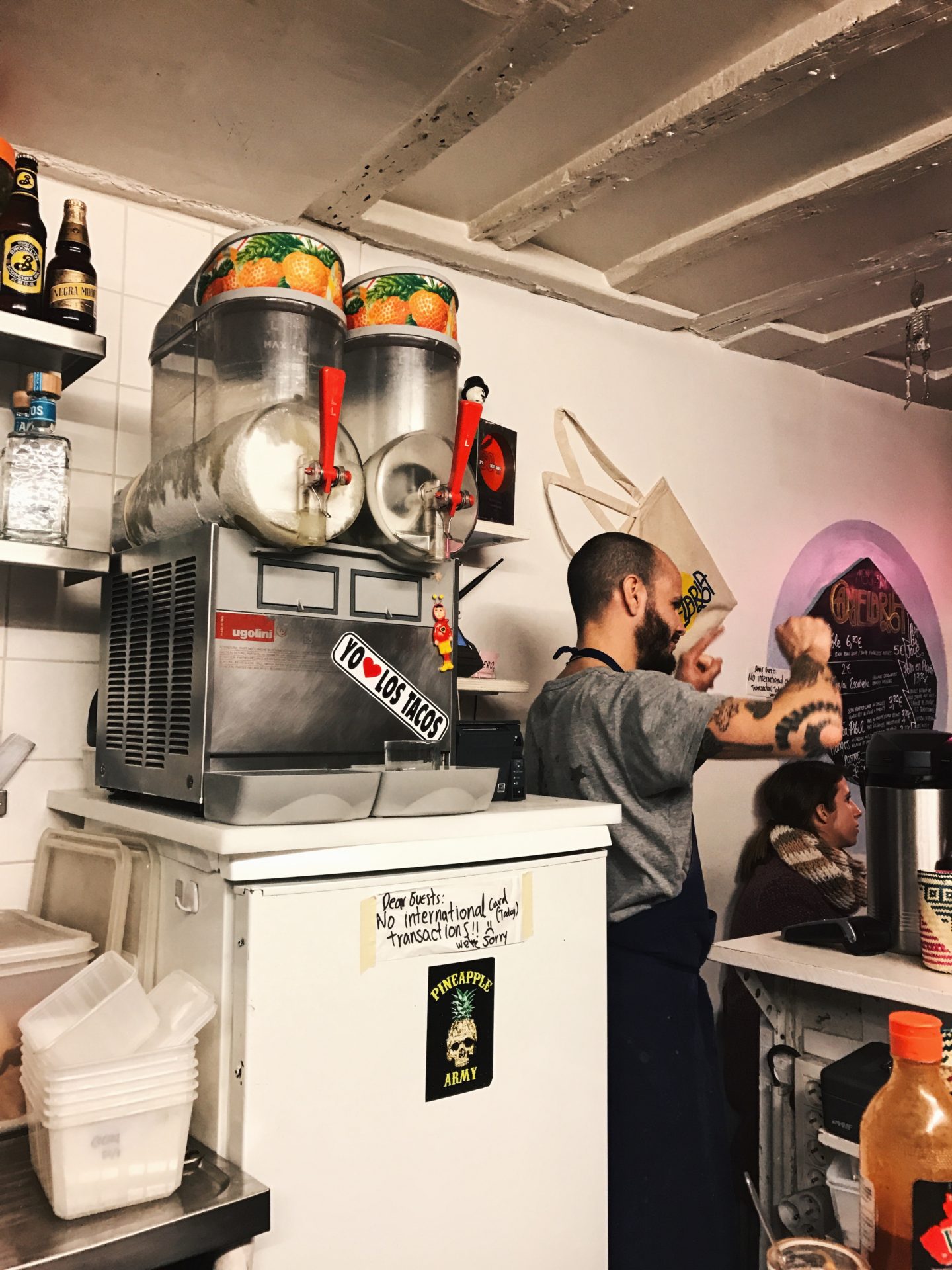 When we finally got our food, two seats appeared at the bar. We sat down and noticed the couple to our left was speaking English. Our faces lit up, and Christine made the first jump, "Hey, where are you guys from?". The LA, but specifically Long Beach couple, was more than excited to chat us up about our Parisian Weekend and what to do and see.
The time flew by as we talked about the vintage clothing boutiques, Paris fashion week, the tacos we were inhaling, and each other's stories.
10:30pm struck the clock — closing time. Carlos brought me Christine and the LA couple 2 shots of Mezcal each and two more Margaritas for free. After toasting to Paris and the city of lights, we took the shots and waited for our check, but there was no shot waiting for us. In fact, it was taken care of by LA couple.
"We thought we'd kick off the your Paris weekend off to a good start — after all, you need to do Paris right."
Well, LA Couple, we certainly did. Post this exquisite generosity, Christine and I treated ourselves to a night of speakeasy.
What was the lesson again?
Be fun, be sweet, be polite, and make some friends out of strangers.
So, if it worked once- try, try, try again.
And try we did. Making friends with the bartenders and playing the Candelaria version of Russian Roulette (in the menu, you can spin a wheel and see what drink category you should order from!) I ordered the Melissa, a tart drink based off Mezcal and, appropriately, named after my sister.
It was delicious. Although having to pay for these drinks unlike our food, we were once again blessed with 4 free Mezcal shots and two additional soon-to-be-drinks-on-the-menu cocktails the bartenders were testing off on us.
We sat on our barstools, making friends with the bartenders, laughing a little bit too loud from our pricey (we are college students after all!) cocktails, and still craving more tacos from the main restaurant.
From here, we wandered to Little Red Door — another Speakeasy bar around the corner. It was so interesting. The menu was just a picture book and mainly a psychology experiment. Pick your favorite photo and you choose your drink for the night.
Let's hope your imagination and artistic subconscious matches your tastebuds. It was such a crazy cool experience, and as Christine and I hailed a cab and got home, we couldn't stop buzzing about our incredibly cool and "chic" first night in Paris.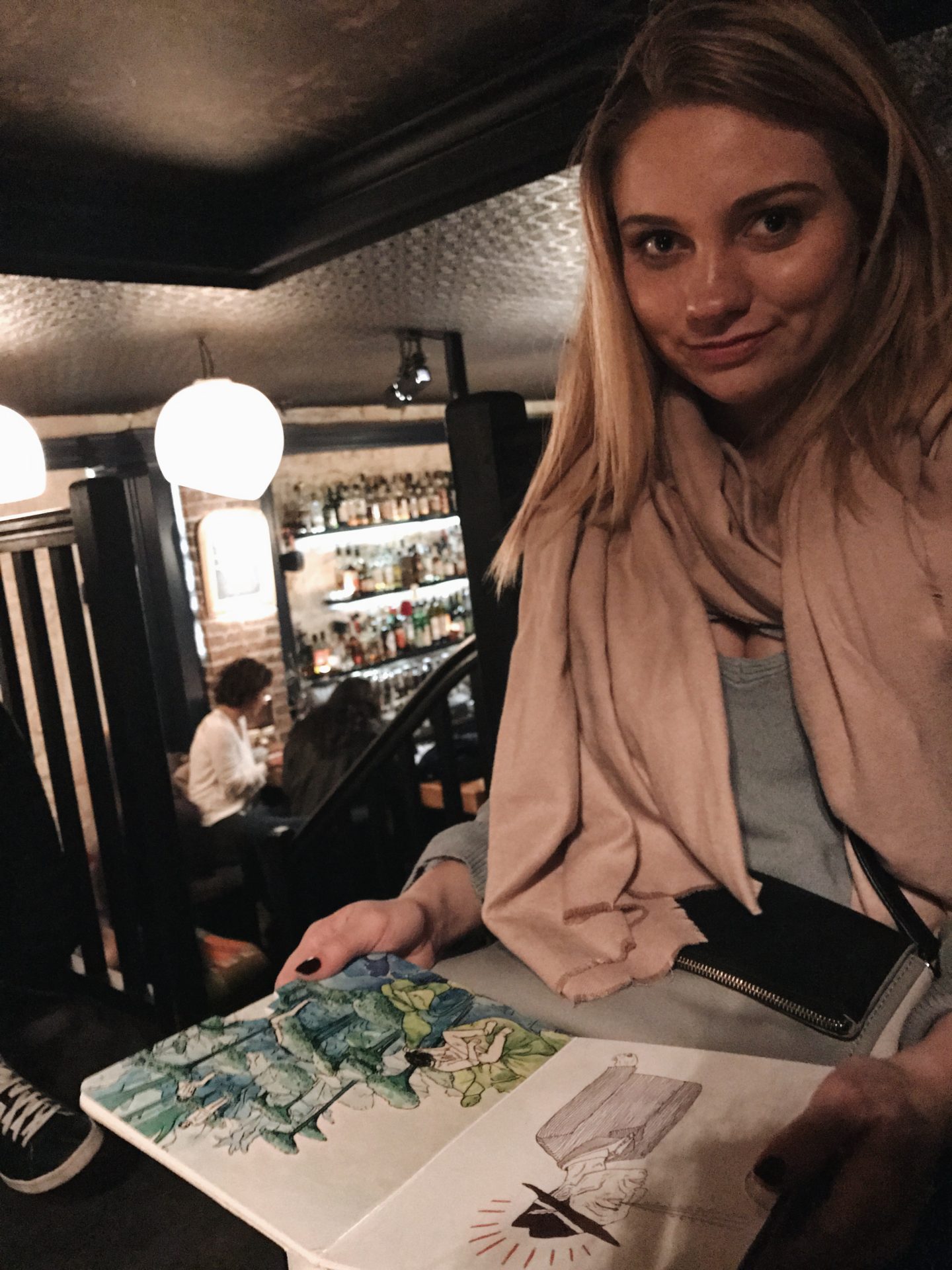 Paris, I'm ready for you!